Are you looking for the top 20 Best Burgers in Davao City? Continue reading and Let's find out!
Here are the top 20 Best Burgers in Davao City base on our research:
1. Kalye't-Kusina Resto
Their Double Humble Burger with Cheese Sauce is a trip worth taking in Kalye't Kusina. The Australian restaurant had become quite a talk of the town for their freshly made dishes and the owner itself is accommodating.
They have a lot on their menu with cheese toppings on it and now they introduced this tasty and mouth-watering burger. And they said it is made of 100% pure beef with generous mozzarella cheese with Australian-styled fries as a side dish. It's on quite the pricey side but as soon as you have a bite of this burger, you'll forget the price and say it's worth it. Yummy!
2. The Fat Cow
Some secrets just won't be kept forever and just like The Fat Cow Burger from The Fat Cow bistro, they have been one of the best dishes on their menu and one rarely talked about but delish. It is a fine dining restaurant with a charming ambiance.
The burger patty is said to be made of 100% Australian beef bountifully laid on your plate. It is on the pricey side but it will be a memorable experience for you and your tummy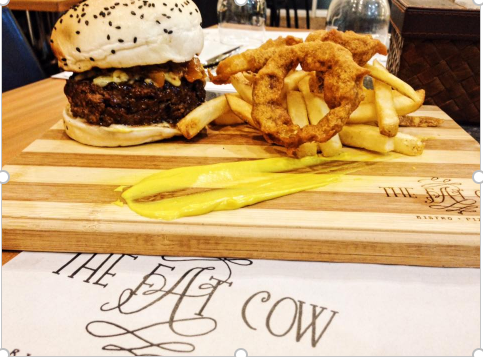 3. Ngag's Burger at Geritos Food House
Pinoy Style? Affordable Price? NGAG'S BURGER NA!
The Geritos Food House Offers Affordable yet delicious recipes. One of Their best-selling food is Ngag's Burger. It has Soft Buns with the tastiest Beef Patty.
The Pinoy Version of Burger that You'll truly Love. What are you waiting for? Visit Geritos Food house that can be located at Indangan, Davao City. Taste it now! BUY ONE TAKE ONE! For only 59Php. Buy now!
4. Spark Coffee Crafts
This restaurant is cozy at the same time with great food on its palate. And of course, a great burger! What's cool about their Burger and Fries is that it's at a reasonable price plus you can choose to add on more toppings to your liking. The delicious burger has great patties and toppings. Just visit and try it!
5. Green Rocks Burger Joint
Who says you can't have delicious burgers at a cheap price? Well, Green Rocks Burger Joint will prove that you can have it.
Their price starts at 89php but we are here to give you a cheat sheet and just try their bestseller Double Patty Cheeseburger for 150php for this price alone and a good-tasting burger, I'm sure you're sold. Thank us later!
6. Army Navy Burger Burrito
It's no secret that Army Navy Burger Burrito serves delectable burritos and burgers. It's proven time and again that customers keep coming back for it.
To cut to the chase, try their Bully Boy Burger, their bestselling burger. With 100% premium beef with triple patty, topped with onions, tomato, lettuce in a Kaiser Bun, you'd surely be a fan. It's that good.
7. Gino's Boom Burgers
A lot of locals claimed that it's one of the best burgers in town. This homegrown burger diner should be on your list of must-try if you're not from Davao City.
They have a few bestsellers which include Bacon Mushroom Burger, Western Burger, Double Burger, All-Meat Burger, and Stuffed Burger. Big patties, generous toppings, and affordable prices. What more can you ask for?
8. Burger King
Ever since Burger King entered Davao City, it never runs out of customers. And why wouldn't it be when their burgers are undeniably delicious. Their grilled patty and unique seasoning and signature flavors are to die for.
Also, the giant chain always has playful new burgers on their menu so you'll never get tired of their tastes. Their Barbeque Bacon Cheese Burger and Double Whopper Bacon Cheese Burger are just two of their bestsellers. It's unforgettable and so yummy you'd have a mental note wanting to come back here.
9. Space Burger
One of Davao's favorite burger go-to is Space Burger for their flame-grilled patties and mouth-watering signature flavor. It is indeed in space for you've never tried the taste of their burger before and it's been in Davao City for quite some time.
We love this burger for the taste is always on point, the patty is 100% beef and is juicily well-grilled, some homemade honey-cured bacon as toppings and the price is just right, even affordable. And their bestseller? Well, everything is. Just try them all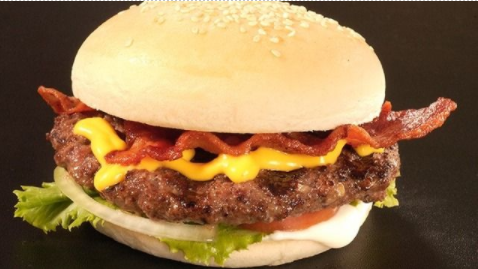 10. Zark's Burgers
Zark's Burgers is a favorite in the Philippines and when it opened in Davao City, people were in love with it. And why not? Their burgers are big, delicious, spot-on at an average price. No wonder branches from all over the Philippines keep popping everywhere.
They have a couple of burgers on their menu each with different types of toppings and styles…and they are all great. Do you want to go home full? Then you need to go here. They have several bestsellers of course and we'll just name these top three which are the Thundermac with Cheeseburger, Jawbreaker, and Zark's Ultimate Burger. Enjoy!
11. Green Rocks Burger
Located in NCCC Mall Buhangin. I got their Double Patty Cheeseburger for the price of Php 150. Green Rocks does not have additional toppings and the next burger on their menu is more than Php 170, so I had to stick with this burger as an entry.
Comes in a foil wrap, looks messy with its dressing and lettuce. This burger is surprisingly tasty and yummy. The Burger patty is indeed well seasoned and the simple dressing of cheese sauce and catsup give you a nice burger meal.
If you're quite tight on the budget and want to enjoy some good burgers, then Green Rocks Burger Joint is a great recommendation. Good tasting burgers at a more affordable price point.
12. Mcdo Burger
The best sandwich/burger at McDonald's is the Double Quarter Pounder with Cheese. Take everything good I said about the Quarter Pounder with Cheese over in fourth place and double it. The result is a satisfyingly meaty, salty, and cheesy burger that is surprisingly filling
13. Halftime Burger
Located along McArthur Highway, Matina beside ACLC Campus. Halftime burgers is a new burger joint in Davao which is closely associating its products to basketball. I tried their James Harden Burger, pure beef patty, topped with bacon, onions, tomato with spicy barbecue sauce, all for only Php 160.
This burger surprised me by its price which was Php 10 less than our price point. The burger is overwhelmed by the spicy barbecue sauce, you can hardly taste the patty. Still, this is a good option especially for students from the nearby schools, and with a price on their burgers that's affordable, I would not mind having this burger any time of the day.
14. Jollibee Burger
Jollibee's Yum Burger with Cheese features a beef patty with cheese and their "special burger dressing" on a soft burger bun. Jollibee's is a fast- food chain from the Philippines so you can consider it a Filipino take on American fast food.
15. The Dugout Burger
One of the newer places here in Davao, they are located at Tulip Drive, Matina near Villa-abrille Subdivision. Unfortunately, Dugout's burger exceeds our price point of Php 170.00, but I still included their burger with this search.
Their burger may have exceeded our price point because their burgers come with a side of fries. Comes with a single burger patty, onion loop, cheese sauce, tomatoes, lettuce. The burger patty itself is tasty and well-seasoned. I can say that it's a good burger to munch on every once in a while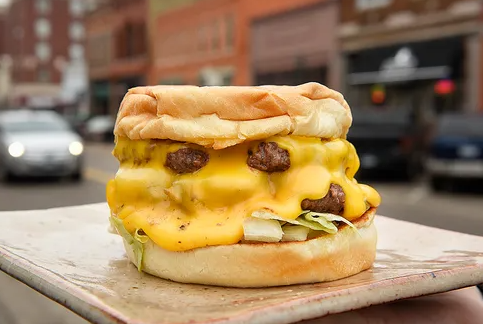 17. Red Corner Burger Cafe
One does not simply miss this one of the best homegrown burgers in town and the locals had been claiming it's just one of the Best in Davao City. It's a personal bias and a no-brainer for me if you'd ask me if it's good here or not because I'm sure you'll love Red Corner Burger Cafe as we all Davaoenos did.
The quantity and quality of the burgers are present on your plate you'd be satisfied already just by looking at the plate. And if you ask us what are the bestsellers? Everything burgers!
Depending on what toppings and add-ons you'd like, you can choose either one of the burgers and sure-fire everything is just delicious. And if you're up for the challenge, try their #redcornerburgerchallenge.
19. The Griddle Burger
They're located inside Viajeros Inn, at Patnubay street in Sandawa. This burger joint may have been forgotten by some but they continue to serve their burgers.
Their regular burger starts at Php 173. Burger patty, lettuce with house dressing. This is one of the best-tasting burgers in this search.
Their burger does not look sad at all, this may be their regular burger but it looks special. It's big and it is really tasty and savory. This burger went over the Php 170 price point by only Php 3. We can always consider a few extra pesos, especially if their burger tastes great.
20. BRGR Alley Burger
They are located at Casa Panolee Building in Loyola Street, Obrero. BRGR Alley's burgers start with the base price of Php 169. The burger is said to be Australian beef but I was kind of disappointed with the taste as they tasted unseasoned and bland.
Maybe because they don't put any catsup or dressing on their burgers, thus giving you the freedom to put accordingly to your taste. I could've added dressing on it but for this search, I just had to consume it how it was prepared.
Maybe I had a bad batch, people have given good reviews about their burgers. Still a good try if you're right around the area.
source:https://welovedavao.davao-global-marketing.com/2021/01/06/best-burgers-in-davao/
You may also like: